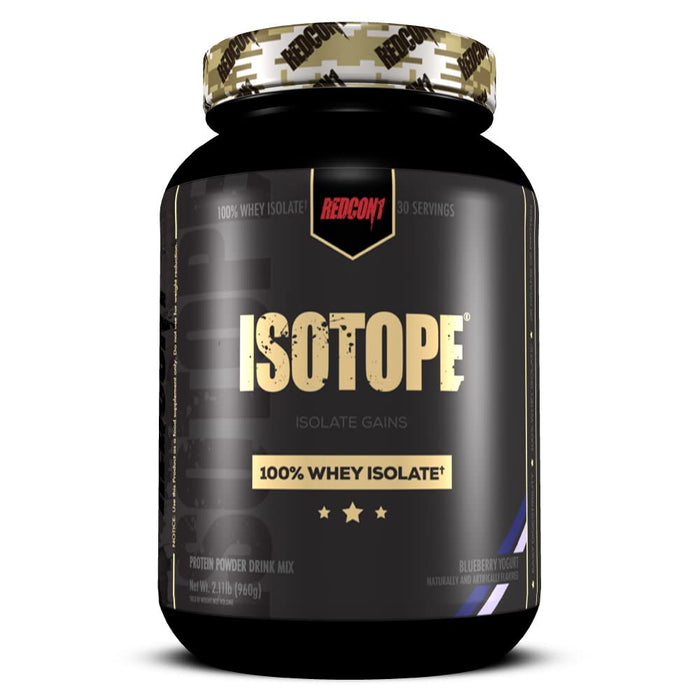 Redcon1 Isotope Whey Protein Isolate
Original price
$69.95
-
Original price
$69.95
Product Description
Isotope checks off every box you're looking for when deciding which WPI to supplement with. First, it checks out from a performance standpoint. No corners were cut. Second, it tastes great and mixes easily. And lastly, it's 100% reliable for the hardcore bodybuilder or athlete who needs precision and accuracy when calculating your daily caloric needs.
ISOTOPE is formulated for athletic people of all skill sets looking to build and repair muscle with a smooth, delicious and easy to digest protein.  Post-workout or throughout the day, you won't find a better whey isolate than ISOTOPE.  Recommended for both men and women over the age of 18.

Features:

Very high in protein.
Low in carbohydrates & fat.
Fast digesting-perfect for post-workout.
Amazing flavours.
Transparent labelling.
Mixes instantly.
How to use Redcon1 Isotope:
For best results, mix 1-2 scoops of Isotope protein powder in 300ml of cold water immediately post-workout. This can also be used any time throughout the day when you need a high-quality protein source.
Warnings:
Always read the label
Use only as directed
Dietary supplements should not replace a balanced diet