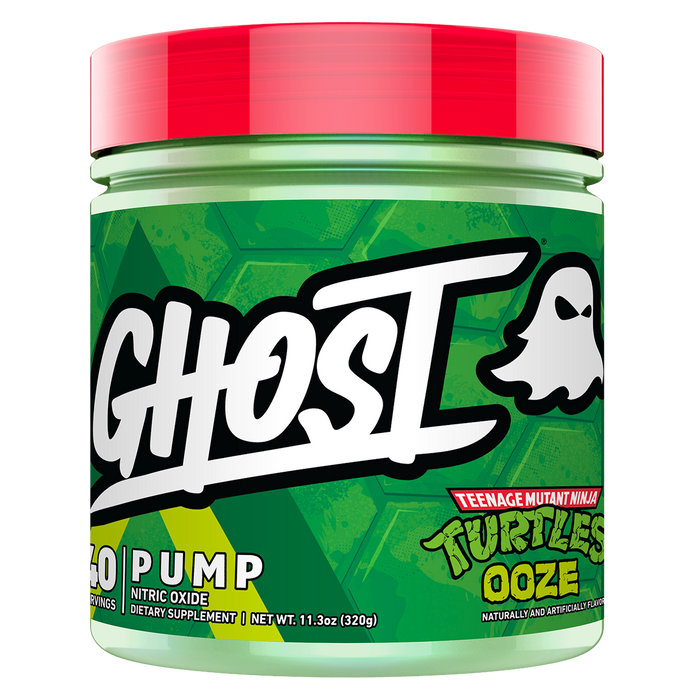 Ghost PUMP X TMNT.....Teenage Mutant Ninja Turtles
Sold out
Original price
$69.95
-
Original price
$69.95
COWABUNGA

Raphael… let's face it, there's no better fit for a GHOST® PUMP collab. Yeah, Raph can be a bit of a hothead, but also fiercely loyal…just like these pumps. GHOST® PUMP x TMNT® "OOZE" is perfect for a stim-free sesh in the lair or stack it with GHOST LEGEND® x TMNT® "OOZE" for double the turtle power.
GHOST

® Full Disclosure Label
6G Vegan Fermented L-Citrulline 
3G NO3-T® Arginine Nitrate 
PureWay-C™
Product Details
GHOST® Full Disclosure Label

All GHOST® products feature a 100% transparent label that fully discloses the dose of each active ingredient. Zero proprietary blends means you know what you're getting in each and every scoop.

L-Citrulline (Vegan Fermented)

6G

Citrulline is one of the best pump ingredients on the market today and while more expensive, pure L-Citrulline delivers even better pumps without the potential for stomach discomfort caused by the additional acid (Citruline Malate)...and since it's vegan fermented, GHOST® PUMP is Vegan Friendly!*

Arginine Nitrate (NO3-T®)

3G

Patented NO3-T® Arginine Nitrate is one of the most effective pump ingredients of all time. Rarely used at the massive 3G dose, NO3-T® combines L-Arginine and Nitrate (nitric acid) to attack nitric oxide from a much different and more advanced angle than the rest of the GHOST® PUMP formula, delivering a complete, all out pump experience unlike anything we've ever tested or tried. Ever.*

Vitamin C is a legendary antioxidant with a laundry list of benefits that we all know and love. Vitamin C is featured in GHOST® Pump because it's been studied as a method of reducing tolerance to nitrates. PureWay-C™ specifically, has been clinically proven to outperform your run of the mill Vitamin C with superior bioavailability and absorption.*

We're massive Glutathione fans and while rarely seen in pump products, Setria® Glutathione has been shown to support NO production and sustain NO levels when combined specifically with L-Citrulline… just remember where you saw it first, fam.*

AstraGin® works to help improve your body's ability to absorb key amino acids, proteins and glucose. In other words, AstraGin® ensures you're getting the maximum benefit from everything we've packed into GHOST® PUMP.