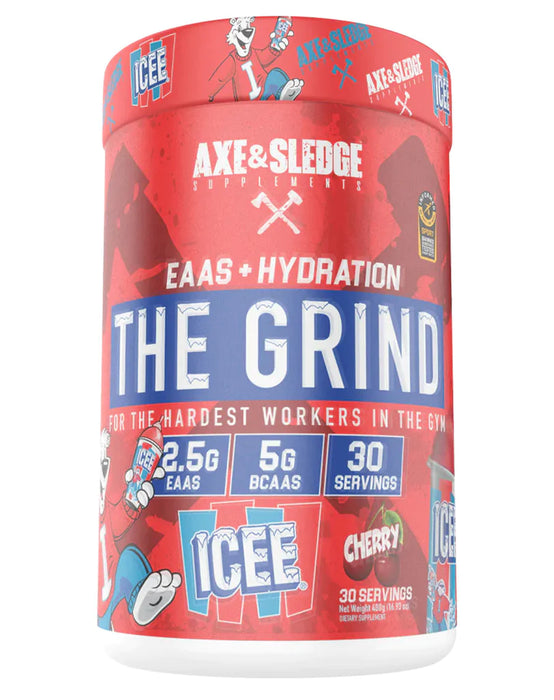 Axe & Sledge Supplements The Grind EAAs + Hydration
Original price
$64.95
-
Original price
$64.95
Product Description
The Grind is our premium EAA, BCAA + Hydration formula that's designed to be used before, during and/or after training to enhance recovery, hydration and performance.
Instead of just catering for a basic BCAA powder...like many of our competitor's, we decided to formulate the ultimate Intra-Workout supplement.
Take one look at the label and you can tell that The Grind is one of the most comprehensive amino acid products on the market.
BCAAS, EAAS, HYDRATION, & RECOVERY
THE GRIND CONTAINS JUST THE RIGH AMOUNT OF BRANCHED CHAIN AMINO ACIDS (BCAAS) AND ESSENTIAL AMINO ACIDS (EAAS) TO HELP REDUCE MUSCLE PROTEIN BREAKDOWN AND STIMULATE MUSCLE PROTEIN SYNTHESIS DURING INTENSE TRAINING SESSIONS. UNLIKE OTHER AMINO ACID SUPPLEMENTS, THE GRIND ALSO CONTAINS VARIOUS OTHER INGREDIENTS THAT PROMOTE HYDRATION AND RECOVERY, INCLUDING GLUTAMINE, COCONUT WATER POWDER, BETAINE ANHYDROUS, AND ORNITHINE.
HERE ARE SOME KEY FEATURES, INGREDIENTS AND BENEFITS OF THE GRIND!
5 GRAMS BCAAS (2:1:1 RATIO)

2.5 GRAMS OF ADDITIONAL EAAS

30 SERVINGS PER CONTAINER

ADDED HYDRATION AND RECOVERY MATRIX

GLUTEN-FREE, SOY-FREE, DAIRY-FREE, KETO-FRIENDLY, VEGETARIAN-FRIENDLY, SUGAR-FREE, ZERO CALORIES