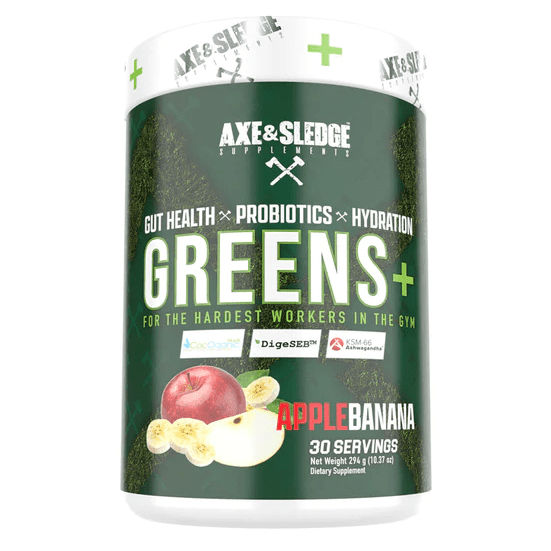 Axe & Sledge Supplements Green +
Sold out
Original price
$79.95
-
Original price
$79.95
Product Description
GREENS THAT DON'T TASTE LIKE GRASS!
Axe & Sledge GREENS+ is the only Greens powder fit for the hardest workers in the gym! Each serving is packed with a full spectrum green blend, probiotics, digestive enzymes, coconut water powder and Ashwagandha.
GREENS+ was formulated to increase natural energy levels, support gut health, promote hydration, manage stress levels and provide your body with the nutrients it needs to perform and thrive.  Not to mention that it doesn't taste like grass - naturally flavoured and sweetened.  This is the superfood that you have been waiting for !
Since it's becoming more and more difficult to obtain the nutrients you need from your diet, it's a good idea to supplement with a superfood powder.  Not all GREENS powders are the same and most are both under-dosed and over priced.  Add GREENS+ to your regimen and experience the difference!